Vivotek IP Video System Design Tool Intuitively Design Surveillance Systems with 2D/3D Views
Vivotek IP Video System Design Tool Intuitively Design Surveillance Systems with 2D/3D Views
VIVOTEK has integrated with JVSG (IP Video System Design Tool) to make the design of professional video surveillance systems quick and easy. With the IP Video System Design Tool, users can calculate the precise lens focal length and viewing angles of all cameras in seconds, and check the field of view of each camera. This allows discovery of any dead zones and increases the security of your premises through the use of 2D and 3D modeling. This smart tool can also obtain more accurate estimations of network bandwidth, storage and perform many other handy functions to enhance your surveillance system design.
Providing Capabilities
2D Planning for Each Camera Field of View
3D Views and Simulation
Realistic 3D Models
Features
Increase efficiency of your security system while lowering costs finding the best camera locations
Calculate precise camera lens focal length and viewing angles in seconds
Check the field of view of each camera and find dead zones to increase the security level of your premises using 2D and 3D modeling
Get estimations of required network bandwidth to shape the network video systems with any number of IP cameras and video servers
Calculate the required HDD storage space for video archive
Load site plan / floor plan in JPEG, JPG, BMP or PDF background image.
Print or export your project to PDF. Copy your calculations, drawings and 3D mockups to create an excellent project documentation
System Requirements
Windows 10, 8, 7, Vista, XP SP2
Step 1. Click and Run the IP Video System Design Tool.
Step 2. Add a Camera on the Site Plan
To add a camera you can use select from the list of cameras use the pop-up menu (Right-Click Mouse Button on Site Plan)
Step 3. Select the Correct Camera Model from either Model List or Camera List.
Step 4. Adjust the Camera's Focal Length and Installation Height.
Step 5. In the Site Plan, Import background Images from JPEG/BMP/PDF.
Step 6. Adjust the Camera's View Angle and Location.
Step 7. Employ the 3D View to See a Simulated View.
Camera Installation Illustration
Camera List – Full VIVOTEK Camera List
Camera List – Synchronized Online
Camera List – Automatic Synchronized Update
When designing a security system, network bandwidth requirements and storage space for archiving video are two very important parameters. Now, by using the JVSG design tool, you can calculate both these parameters automatically.
In order to calculate both bandwidth and storage, you simply add camera types and specify a few parameters as shown below:
You can see that there are several columns in the table. You may need to click on your mouse's right button to open the hidden columns, as illustrated here.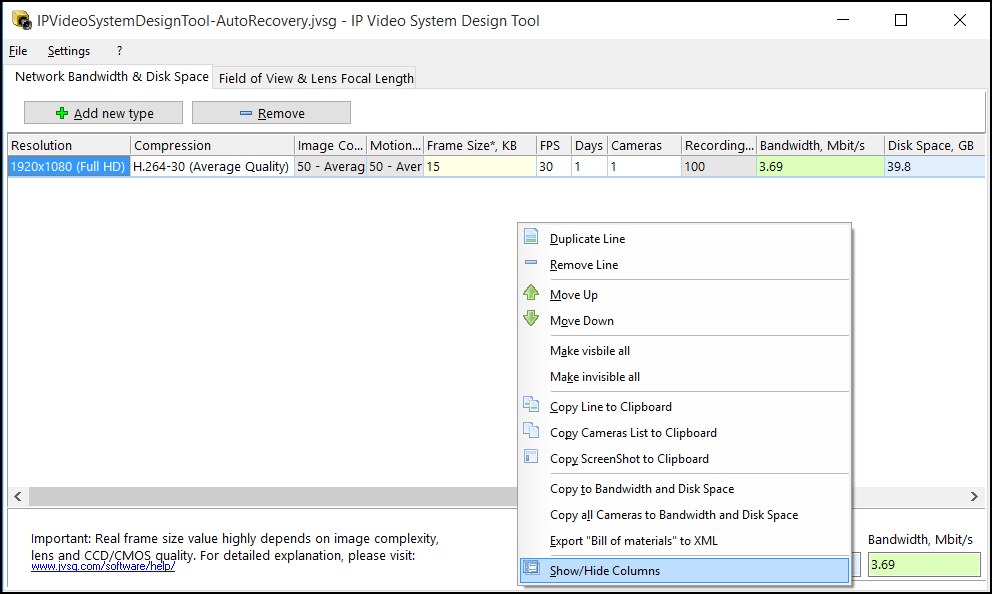 Following are the key parameters that need to be specified.
1. Resolution: (Camera Resolution – Pixels) You can select the camera resolution from the drop-down list.
2. Compression (Video compression): You can choose from these formats:
MJPG
MPEG4
H.264
MJPG2000
3. Image Complexity: Frames from some CCTV cameras are more detailed and have a higher frame size. This option is shown in the Expert Mode.
4. Motion %: The level, as a percentage, of motion activity. This parameter is used for MPEG4 and H.264 bandwidth estimation.
5. FPS: Frames per second. You can select the FPS you desire for your cameras.
6. Days: Retention period in units of 24 hours. This is the required archive duration for your video, and is used for storage space calculations. For example, if you plan to store video recording for a year, please enter 365.
7. Cameras: Number of cameras in your surveillance system.
8. Recording %: The percentage of operational hours within a 24 hour period. This gives a measure of the estimated motion recoding activity in percentage. For continuous recording the value of this parameter should be 100%.
After all the above parameters are entered into the system, at the bottom of the window you can find the total bandwidth and disk space required for your entire video surveillance system.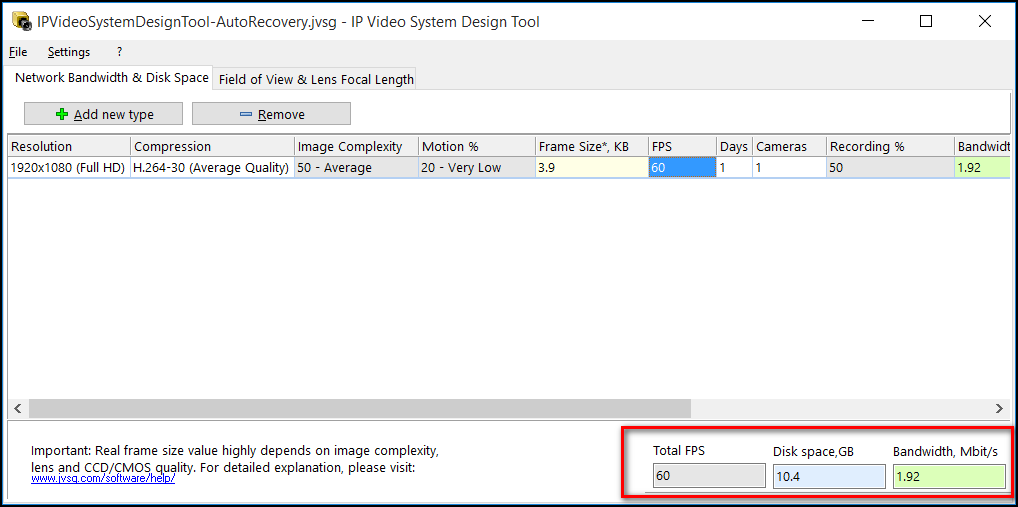 Frame Size (Kilobytes): The software estimates frame size based on resolution and compression. In some special cases you can measure your real frame size and specify it in this field.
Bandwidth (Megabits per second): How much network traffic is required for these cameras.
Disk Space (Gigabytes): Disk storage space required to store video archive (in GBs).
Downloads
Document TypeModel NameTypeCategoryTitleVersionIssued DateFile SizeDownloadSoftwareIP Video System Design Tool9.2.0.1764237 MB
ManualIP Video System Design Tool9.3 MB