Vivotek SC8132 Stereo Counting Camera, High Accuracy, Advanced U-Turn Detection, Trend IoT Security
Vivotek SC8132 Stereo Counting Camera, High Accuracy, Advanced U-Turn Detection, Trend IoT Security
Vivotek SC8132 Overview
VIVOTEK's SC8132 is a smart device combining the functionalities of a counting sensor and a surveillance camera. Embedded with a dual-lens and 3D Depth technology, it provides average accuracy of as high as 98%, as an onboard Automatic Passenger Counting (APC) system. High quality video delivered at 30 fps provides an operator with situational awareness of the door area, while preserving video evidence for incident tracking and accuracy verification.
The Vivotek SC8132 was designed specifically for deployments onboard vehicles, it features ruggedized casing, M12 connector, and a wide range of transport safety certifications. The camera comes with the choice of mounting kits allowing for installation in various environments, either in flat or tilted position, at a minimal height of 1.9 meters.
Thanks to deep learning technology, the Vivotek SC8132 can intelligently distinguish and classify various types of objects and deliver precise results in dynamic real-life scenarios. Collected data can be retrieved live or synchronized later using a dedicated VAST Report software or any third-party system. The camera itself can also act as an independent smart edge device and provide data according to the pre-set schedule while retaining a backup copy of metadata.
Comprehensive passenger flow data collected by the Vivotek SC8132 units proves invaluable when optimizing mass transit routes and schedules. It can also be used to improve ticket pricing, reduce fare avoidance, control vehicle occupancy and improve passenger space allocation.
Click here to see our range of compatible NVR's: https://elixir-cctv.co.uk/product-category/network-video-recorders-nvr/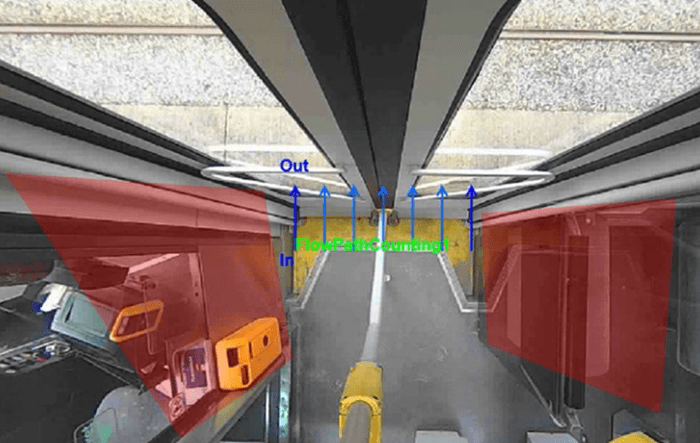 High Accuracy
Stereo camera with dual-lens
3D depth measurement technology
98% average counting accuracy rate
Bi-directional counting, fully definable counting lines
Tracking of unlimited number of unique objects
Detection of U-turns to avoid double counting
Full accuracy even at 1.9M installation height
Digital input for vehicle door integration
Multi-Purpose
Counting and surveillance in a single device
Door area situational awareness monitoring
Video evidence for accuracy tuning and verification
Objects height measurement data
Local storage for metadata and recordings
Flexible Installation
Simplified calibration, wide range of settings
PoE and DC power supply support
Optional flat and tilted mounting kits
Dedicated Shepard software for batch setup
Open Integration
Precise entry/exit data for chosen time period
Automated report upload per schedule
Ready for integration with third-party systems
Dedicated VAST Report software for data collection